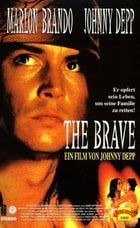 Posted : 7 years, 1 month ago on 27 July 2008 08:17 (A review of
The Brave
)
"It is the final measure of bravery is to stand up to death."
The Brave
is a remarkable and affecting film with a touching story that should keep any viewer compelled. With Johnny Depp giving an incredible and arousing performance as well as directing with gripping style, this is a film that I am happy to have seen despite the emotion that I felt while watching it.
The Brave
tells a unique story focusing on courage, bravery, audacity and death. It would be impossible for anyone to finish this movie without being affected by it's deep meaning and passion, which comes across as a beautiful and expressive film. I know that I certainly haven't seen a movie with a story anything like this one before, it is unique in a way that is astonishing as well as strange. Johnny Depp is Raphael, an unemployed and alcoholic American Indian who has just been released from jail. His time away from his family has caused his relationships with them to be not as good as he would like them to be. Their small family lives in a trailer park near a dump, and surrounded by unlikely people all with the commonality of being poor and with equal power. Raphael knows that this place is not good for his family, and only wants good for them... so much that he would be willing to do anything for them to live a better life. When he is offered a 'job' which would guarantee his family more than enough money to allow this, he cautiously accepts the offer that will mean his death. This may not seem like much, like a typical film with a strange and surreal story.. but I can assure you, it's much more. As influential as it is persuasive,
The Brave
kept me immersed within the story for the entire film, although some scenes were not needed quite as much as others. Most of the scenes came across with potent acting and profound scenes, with only a few moments that drifted off into something seen before. Something about this tragic plot is strikingly riveting and engrossing, which resulted in me becoming extremely connected with the characters.
The Brave
also has one of the saddest and best endings I have ever seen. Shock and grief flooded over me when I realized that it ended as it did, making the whole experience even more memorable than it would have been. It's not often that you see a movie with an ending as defined as this one.
Based on the novel by Gregory McDonald, and with screenplay by Paul McCudden, Johnny Depp, and his brother; Daniel Depp, the dialogue was very poignant and strong, despite the fact that the film's main concept seemed to be something different. To me, the impressive element that has left me so influenced was not the screenplay, but more the beautiful and intense directing - consisting of breathtaking shots and a striking intake on the movements. Some of the most powerful moments in
The Brave
came from scenes where little words are spoken, and the visual image in itself becomes overpowering.
Iggy Pop's original music for this film was very unique to say the least. At the start it seemed strange and perhaps even like it wasn't suited to the film, but as the movie goes on, the stirring score adds diversity to the overall film and makes some scenes in particular incredibly intense and transfixing. To me, the score was responsible for the range of emotions that came to me from
The Brave
. At one moment the sounds of fast music and laughter from the characters brought joy to me and happiness for watching the story become so enjoyable to watch - but at other times, the impressive score brings the disturbing or upsetting images to have even more impact on the viewer, making this film a lot more emotional to watch than I would have expected it to be.
Johnny Depp - what can I say. The man continues to surprise me with his talent, and this is yet another character that shows what a diverse actor he is. His performance is incredibly passionate and deep, resulting in it being astounding to watch. Even after the huge amount of his films that I have seen, it amazes me to see him each time in a completely different role, and still shining with his talent and affecting performance. Marlon Brando had a significantly smaller role that I would have thought in this film. In fact, he only has one scene in the whole film. I can't say that he is particularly amazing for his small role, but he is more than capable of delivering the performance that was needed.
The Brave
also had a handful of great performances from actors like Marshall Bell, Elpidia Carrillo, Frederic Forrest and Luis Guzmán. The acting overall is one of the greatest things that this film has to offer. Although the story closely centres on Raphael, the other acting is exceptional when needed.
Overall,
The Brave
is a film that I would strongly recommend. Fans of Johnny Depp already have a reason to see this; otherwise anyone in the mood for a unique and highly moving drama should see this. While some might find this boring and not interesting, to me it is completely the opposite. You just need to give it the attention it needs to find yourself touched and compelled until the end.

0 comments,
Reply to this entry
Posted : 7 years, 1 month ago on 17 July 2008 09:04 (A review of
The Dark Knight
)
"You either die a hero or you live long enough to see yourself become the villain."
The Dark Knight
was a film that I had extremely high expectations set for. As my most anticipated film of 2008, with one of the most talented actors ever – Heath Ledger – in his last completed performance, and a convincing take on the Batman franchise with director Christopher Nolan's first Batman film,
Batman Begins
in 2005; this could have easily gone either way. I have been extremely disappointed before with films like this that have had my excitement ever since they have been announced, but
The Dark Knight
has proven to be one that I am incredibly happy with. Astoundingly happy with in fact; it has proven to be an absolute masterpiece and did not disappoint me in any way at all.
The Dark Knight
has what I consider to be a extensive running time, but I can say with certainty that it was one of the best two and a half hours of my life. The whole film overall was striking and potent to an extreme so far that I was speechless throughout the whole viewing. It has been a long, long time since watching a movie has had this much of an impact on myself.
Being a fan of the Batman franchise in general, and particularly the recent
Batman Begins
, the whole idea of a sequel to the Christopher Nolan addition was spectacular even just to think about. Finally seeing it on the big screen was almost impossibly amazing to watch. The story was unbelievably powerful and transfixing, creating an atmosphere so alluring and compelling that the viewer has no choice but to become completely connected within the movie. Gotham has had its share of notorious villains before, but the new wave of crime coming from the psychopathic killer, The Joker, sends chaos throughout the city. Some consider Batman a hero, while others see him as a villain on his own. But when The Joker is exposed to the city, the two are willing to change every part of what they believe in to stop the other. In amongst these two defining characters, several other unlikely ones are introduced, bringing even more chaos to Gotham and creating an even more intricate plot.
Christopher Nolan's directing was phenomenal and completely ingenious. Coming back after
Batman Begins
with no mistakes and absolutely no moments that weren't needed, his talent shines with his latest masterpiece. Every single moment during
The Dark Knight
was enthralling and engrossing beyond anything I have experienced before. I was left in awe, and I'm sure the whole cinema was stunned by how affecting this film is. The ending is conclusive, but unsurprisingly is left with more than enough space for a third installment of Nolan's Batman films, which I would be all for is that was the case. After seeing Nolan's sequel, it's clear to me that he simply can't go wrong.
The screenplay was riveting and was exactly what was needed. Perfect, in my view. Some of the scenes were indescribable with the excellence in screenplay, and each line was perfect and added entirety to the overall film. It was incredibly gripping to watch, and sometimes even humorous. There were times when the whole cinema erupted with laughter – particularly parts coming from the joker. One of the greatest things about
The Dark Knight
is that it should do more than satisfy any viewer; bringing all kinds of genres into place and a variety of different aspects shown.
Christian Bale could be the best actor to ever take the role of Batman in my opinion. He executes to character perfectly and gives a mesmerizing and influential performance that is both gripping and engaging. Heath Ledger's performance as the Joker has left me speechless. He went into the character very deep and really 'became' the Joker. He is chilling and terrifying throughout his role performance, giving a very different and unique take on the Joker, and for better. Just by taking one glance at the criminal is spine-chilling, and the unusual but also remarkable voice has the same effect. I will mention in particular a certain scene with the "why so serious" speech, which had a huge impact on what I thought of the performance overall. That scene was indescribable... it really showed the depth that Heath put into his character and the darkness to the Joker. It also hit me with reality of what talent Heath still had to show us but we will never see, but I am grateful that we get to witness his mind-blowing performance in
The Dark Knight
. Aaron Eckhart as Harvey Dent is very powerful to watch. His performance exceeded my expectations and is incomparable to any other actor that could have pulled off the role as well as he did. Watching Michael Caine return once again as Alfred, Bruce Wayne's faithful butler has made me more aware of his incredible talent. He is a more than worthy addition to this already strong cast. Maggie Gyllenhaal was also brilliant to watch, giving a riveting performance, a lot better than I would have expected. I thought that Gary Oldman's character, James Gordon, was focused on a lot more than I would have predicted. This was a positive thing of course, with Gary Oldman delivering an exceptional performance far better than any other could match. Morgan Freeman was also an excellent addition to the cast, adding a whole lot more diversity to the actors, and of course his performance is transfixing as you would imagine it to be. Overall, the cast of
The Dark Knight
were incredible and perfectly fitted to their characters, the kind of cast that is very rare to find with the diverse and immense talent.
The Dark Knight
cannot be described simply, if it can be described at all. There is no option with this, it's a must see if you want to call yourself a fan of the actors, director, Batman franchise, or even just a fan of movies in general; you must see it for yourself. Ledger's last performance is captivating just as the other performances are, the directing is riveting, the script is gripping and the overall movie is stunning, striking and noticeably dark. I have no doubt that this film will earn the success it deserves... this is a true masterpiece.

0 comments,
Reply to this entry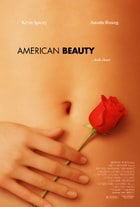 Posted : 7 years, 1 month ago on 13 July 2008 03:28 (A review of
American Beauty
)
"Sometimes there's so much beauty in the world I feel like I can't take it, like my heart's going to cave in."
American Beauty
was a movie that came to me highly recommended, and applauded by critics as a masterpiece. After watching it, it's obvious that nothing less can be said about this film.
American Beauty
is a masterpiece and a truly impressive film, one to be treasured for years to come, and unquestionably worthy of the numerous awards it has received.
The story that is told in
American Beauty
is beautiful and pleasing to watch for the most part, but also intricate and with deep meaning. Not often does a film come across with such a powerful message as this one has, and it stays with the viewer long after the film comes to an end. It follows the events of Lester Burnham, a somewhat depressed man in his early forties. His marriage is at downfall and his teenage daughter is uncaring and wants nothing to do with him. A series of events follow that lead Lester to change his life around; falling in love with his daughter's friend, drugs and quitting his job. Multiple stories within the film are told, as his daughter falls in love with the next-door neighbour and his wife realises that she wants more than her corrupt life with her family. The story starts off simply as it introduces characters and a setting, which don't seem too inimitable at the time, but as the story goes on and we travel deeper into the life of 42 year-old Lester Burnham, it becomes clear that these things aren't all that they seem to be. The characters seem to be easily related to a community such as the suburbia in which this film is set, and all have a great realism towards the story.
Probably the most impressive component to this film was the screenplay. Written by Alan Ball, it made the film so much more compelling and riveting to watch. Each line was clever and humorous to some extent, which created an enormous insight to the story and characters. This is the perfect example of how important a screenplay is, and the perfect example of how clever it can be. The directing by Sam Mendes was incredibly fulfilling and insightful to the affecting story. He created a film that is both moving and emotional, but also extremely transfixing to watch. The score was contemporary and highly expressive, adding to the entire feel of the movie. It perfectly fitted the the events and gave the film a more genuine and realistic edge.
The cast was incredible, a great mix of versatile actors, all very different from one another. Kevin Spacey as the lead role gave a phenomenal performance. After watching this film I honestly can't think of anyone else with the role of Lester Burnham. He was perfect for his character and he was gripping and potent throughout the entire film. Annette Bening was also incredible to watch, her performance was mesmerizing and she became her character to an extent that was extraordinary. Thora Birch as Lester's insecure and bemused daughter was also amazing to watch. She gave a brilliant performance beyond what I would have expected. Wes Bentley gave an electrifying performance, adding to the diversity between the many supporting actors in this film. He gave another great performance and one that connects well with the viewer. Mena Suvari was surprisingly exceptional for her role; her performance more likeable than her character. Chris Cooper and Peter Gallagher were also nice additions to the impressive cast, giving riveting and powerful performances.
American Beauty
is one of the best movies ever made, and I am extremely glad that I have seen it. With a unique story, ingenious screenplay and directing, enthralling performances and full of complete beauty that is astounding to watch,
American Beauty
is a must-see film for anyone and everyone.

0 comments,
Reply to this entry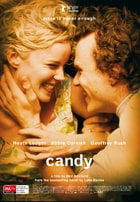 Posted : 7 years, 1 month ago on 12 July 2008 03:31 (A review of
Candy
)
"We had a lot going for us. We'd found the secret glue that held all things together. In a perfect place, where the noise did not intrude, our world was so very complete."
Candy
is an incredibly beautiful and powerful drama that kept me engrossed and compelled within the story for the entire length of the film. Within this potent film is a life drama full of love, drugs and an inseparable bond between two people.
The reason I picked up
Candy
to begin with was the fact that Heath Ledger has the lead role, but as this finished I found that I had witnessed much more than the gripping performance by him; but also one of the most expressive and affecting stories that I have ever seen. Heath Ledger is Dan, a poet who is very much in love with an art student; Candy. The two of them share the same lifestyle of an addiction to heroin and a lack of money. As the story goes on, it becomes clear that the only thing that matters to them is each other, and they will go to the extremes in order to stay with each other; nothing else matters. This has been done before - perhaps many times, but never to the extent that
Candy
has achieved. Usually this would start off with the meeting of the two, and then show how their two lives are affected as they change their lifestyle to be with each other. But this is much different, much more interesting and intriguing. We start off with the two of them already indivisible from each other, already as passionate towards each other as they are addicted to the drug. We then travel deeper into the story and meaning of the film, the consequences of the drug and their lifestyle appear and desperation takes place, causing them to give up everything but their love for each other.
Although the whole of this film is touching and strong, there were certainly parts which were especially emotional and heartrending. The brilliant performances from the actors combined with the innovative and convincing story was arousing to an extent that I had never seen before, making the viewing mesmerizing and beautiful to watch. The directing by Neil Armfield created the atmosphere needed - both gripping and striking to watch. Something I didn't know before watching
Candy
, was that it is in fact based a novel - 'Candy: A Novel of Love and Addiction' by Luke Davies. And it's that compelling story that holds the whole film together, that is the basis of this film which I have loved, and now I am more than interested in reading it.
The soundtrack of
Candy
somehow added to the realism of the story and perfectly matched with the events at the time. This kind of thing is often overlooked with a story like this, but I certainly appreciated it. During various scenes the score made the entire film more influential and absorbing, which is exactly what was needed to make this film even better than what could have been achieved.
Heath Ledger was exceptional and Unparalleled, exceeding everything I would have expected from him. This has to be one of his best performances that I have seen, and watching this has made me admire him for his talents, as well as distressed that he had so much more to offer that we will never see. Abbie Cornish was incredible for her role as Candy, creating a character that had my sympathy as she expressed every emotion perfectly and spoke every line to a level that was incomparable. The chemistry between Ledger and Cornish was also something that can't be compared, the two of them together on screen is hard to describe - they have talent together that is very rare to see. Geoffrey Rush was a nice addition to the cast, and I felt he gave an incredible performance which was needed for his role. Overall, the acting in
Candy
can simply be described as brilliant and potent. A cast perfectly fitted to the characters, all giving moving performances.
In the end,
Candy
was a riveting and expressive film that I am very glad to have seen. Full of amazing performances and an interesting and unique story, this is a film that really should be seen by all fans of dramas and love stories. Of course, if you are a fan of Heath Ledger then this is a film that you simply can't ignore. A successful Australian drama film.

0 comments,
Reply to this entry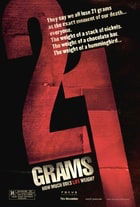 Posted : 7 years, 2 months ago on 25 June 2008 08:58 (A review of
21 Grams
)
"How many lives do we live? How many times do we die? They say we all lose 21 grams... at the exact moment of our death. Everyone. And how much fits into 21 grams? How much is lost? When do we lose 21 grams? How much goes with them? How much is gained? How much is gained? Twenty-one grams. The weight of a stack of five nickels. The weight of a hummingbird. A chocolate bar. How much did 21 grams weigh?"
21 Grams
is an intense and expressive film that has left me astonished and in complete awe of it's ability to keep the viewer compelled for it's entirety? this is a film that certainly can't be ignored.
21 Grams
tells a tragic story that is both riveting and gripping from the very moment it begins. It starts with even slight confusion and with a mystifying atmosphere, but as the film goes on it begins to unfold and we see truly what this has to offer. The story is one of tragedy, death, guilt and overall redemption and forgiveness. It centers around three characters, which all eventually coincide with each other, both for better and worse. One of these characters is Paul Rivers, an ill heart transplant patent with corruption both with his health and his relationship with his partner. Another is Cristina Peck, a brokenhearted wife and mother of a tragic accident, with confusion throughout her life. The final character in which this alluring film is centering around is Jack Jordan, an ex-con that was part of an event that changed and impacted his life. When these three come together questions are answered and more arise, as we gradually find out more about these people and their past, and what has brought them together.
One of the main elements that I loved in
21 Grams
was the capability it had to keep the viewer transfixed within the story, without entirely knowing what is going on at any one time. It offers a rare style that is not tried frequently enough, by retelling the story using only small clips at a time, ranging from the end to the beginning to the middle and randomly back again... this in itself made the film unique and incomparable to any other in it's league. With all of this going on, it still manages to keep a fast pace and an intriguing style. The ending was one to leave the viewer in complete awe. It was profound and deep beyond many other films I have seen before, making
21 Grams
stand out and impress even more.
Alejandro González Iñárritu gave this film the clever, expressive and riveting direction that it needed to achieve its high standard. He have an insightful view on the characters, and attained the strong and transfixing style of un-chronological order which has defined this film. The always breathtaking and arousing direction made
21 Grams
a film that I am incredibly happy to have seen. Through the range of emotions that this film delivered, at any one moment I didn't even consider the possibility of not being entertained.
The soundtrack also added to the momentous and potent feeling of the overall film, making it even more of a significant experience.
Sean Penn was incredible and absolutely a lot better than anyone else imaginable for the same role. He delivered a powerful performance full of emotion and to the extent that I rarely ever see in films. He gave the whole film a lot deeper and more gripping meaning, certainly satisfying any viewer. Naomi Watts was also amazing for her role. She gave the tremendous ability to change from different emotions in short spaces of time. She showed many different feelings coming from her character, and therefore gave a strong sense of expression and passion at any one time. Benicio Del Toro's performance was incomparable... he was gripping and exhilarating, adding to the overall feel of the film and the diversity of characters. Charlotte Gainsbourg contributed extensively even for her smaller role, giving a transfixing and strong performance. Melissa Leo, Clea DuVall and Eddie Marsan were better than average, but didn't have the ability to keep the viewer as allured as other actors do.
Overall,
21 Grams
is an enthralling and incredibly intense film that I strongly recommend to anyone interested. Full of gripping performances, a potent and poignant story, masterful directing and a moving and profound message... this is one that simply cannot be missed.

0 comments,
Reply to this entry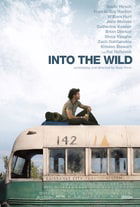 Posted : 7 years, 2 months ago on 19 June 2008 07:33 (A review of
Into The Wild
)
"I also know how important it is in life not necessarily to be strong but to feel strong. To measure yourself at least once. To find yourself at least once in the most ancient of human conditions. Facing the blind death stone alone, with nothing to help you but your hands and your own head."
Into the Wild
kept me engrossed and in complete awe for its entire length. It has proven to be perfect through my eyes, and I film that I will surely treasure and admire for years to come. With a potent and gripping story, incredibly beautiful and stunning scenery, and full of mesmeric and moving performances, this film is one that certainly can't be overlooked.
Based on the bestselling novel,
Into the Wild
tells the poignant and riveting story of Chris McCandless' life and the extraordinary adventures he came across. After graduating, Chris abandons his life with his corrupt family and leaves his past life behind, with a vision and dream to make his way to Alaska and live his life in the wild. Along the way on his adventure, he encounters many characters and events that impact his life, encountering many challenges as well as many emotional, heartbreaking and rewarding experiences. His pursuit of freedom and personal triumph becomes a ride full of many emotions and confronting imagery, but is held together beautifully by transfixing performances and overall striking scenery, capturing every aspect needed for a masterpiece.
The ending was effortlessly remarkable and astonishing. It is rare for a film to leave me as emotional as I was at the climax and end of
Into the Wild
. It just had that spark of hope even at the end when the story becomes heartrending and powerful beyond anything I would have expected or have seen before. Through all of the sadness and emotions even of disappointment, I found a message that will stay with me forever and satisfaction that this film did in my opinion end on a high note.
The directing by Sean Penn was incomparable and exceptional. The overall look and feel of the film came almost entirely from the masterful and appealing directing, which showed breathtaking and spectacular shots of scenery and throughout, making the whole experience more imitable and enthralling. The screenplay was incredible beyond words. There were countless points in the movie when I felt completely compelled and engrossed in the film, which gave
Into the Wild
the ability to take the viewer to a whole new world and forget that we're watching a movie. There were several points in the film when the words spoken gave an incredible sense of success and freedom, delivering some emotions that I haven't felt while watching a film for a long, long time.
The original soundtrack from
Into the Wild
was incredible and entirely mesmeric and potent throughout the entire film. It provided entirety to the complete atmosphere and stunning scenery that
Into the Wild
delivered. The best moments in this film were held together by the striking score, and had the ability to completely captivate them within its unique story. Even after the film comes to its moving and poignant end, as the music plays it gives an incredible feeling to the viewer. It certainly stayed in my head long after the movie had finished, and is now recognizable to be as one of the key reasons why I loved and admired the overall film so much.
Emile Hirsch was outstanding and brilliant for every moment he was on screen. He gave an incredible and gripping performance, delivering inimitable and transfixing performance and some remarkable emotions. This level of success continued throughout the entire film, and as his character changed the same compelling and expressive performance was kept. He was through my eyes the perfect Chris McCandless, and now I couldn't ever imagine anyone else with the same role and perfecting it as he did. Marcia Gay Harden and William Hurt were extensively engaging for their smaller roles. Jena Malone was also incredible and gave an engrossing and exceptional performance. Her words came perfectly for her narration in
Into the Wild
, and added to the powerful and enthralling atmosphere. Catherine Keener and Brian H. Dierker as some of the unlikely characters that Chris came across were also brilliant. Kristen Stewart, Vince Vaughn and Hal Holbrook were among the other names that significantly contributed with their near perfect performances. The character of Chris seemed was obviously the main focus, but even other smaller roles contributed to the overall impact the film maintained.
Overall
Into the Wild
was a film that I am incredibly happy and pleased to have seen. This is a film that achieves perfection through all elements and tells a tragic and remarkable tale. See this for stunning directing, impressive scenery, powerful acting, a heartbreaking story and overall an appealing atmosphere. I strongly recommend this to anyone and everyone, a film that can't be ignored and one to be treasured by all viewers.

0 comments,
Reply to this entry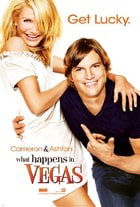 Posted : 7 years, 2 months ago on 17 June 2008 07:26 (A review of
What Happens in Vegas
)
What Happens In Vegas...
was a mediocre comedy that was by no means an essential viewing. At times it can be enjoyable and entertaining to watch, but there wasn't a time in
What Happens In Vegas...
that I really thought were better than the average comedy nowadays.
At first I thought
What Happens In Vegas...
would focus mainly on comedy, but as the film went on, romance began to take the main focus. Now I'm not a huge fan of chicks, so that judgment had a huge impact overall for my opinion of this film after the shift to focus on romance.
What Happens In Vegas...
doesn't come across with any originality, and I can certainly say that the plot is by no means unique in any way. Simply put,
What Happens In Vegas...
poses the question of "what would happen if a couple got married one night in Vegas, unaware of what they were doing?". Of course this isn't the end of the key part of the plot. After this incident occurs, entertainment is stretched even further as one of them wins the jackpot at a casino, but is faced with the laws of marriage and is simply put described by a quote from the movie - "what's mine is yours, remember?". This unoriginal and surreal idea adds to the quirkiness of the film overall, and the predictable court sentence during the film (six months of marriage) makes it even more dim and monotonous. Of course after this the situations become comical, but at the same time some were ridiculous, ludicrous and brainless. At the end of
What Happens In Vegas...
, it felt as if it was trying to come across with a deeper message, but failed to bring it across in a sensible way. At the end of the film all we are left with is the 'final kiss' cliché and what is supposed to be a feeling of satisfaction and pleasure. This film didn't bring me complete dissatisfaction, but I was hoping for something at least slightly better.
Most of the laughs from
What Happens In Vegas...
are a mixture of entertainment and bewilderment in how absurd some of the jokes were. Well, this was the case for me at least. This is the type of film that includes all of the at least amusing jokes in the trailer, and what's left is a few attempts to keep that level of hilarity, but for most cases it doesn't succeed. A few smart and funny ideas are brought across, but not many that haven't been tried somewhere before. Tom Vaughan's directing was applaudable but nothing of a high level of talent. The camera movements and shots seem to be an aspect that wouldn't be paid much attention, but it wasn't half bad. The screenplay was nothing special apart from a few incidences. As mentioned before,
What Happens In Vegas...
doesn't seem to concentrate on bringing new ideas to the big screen. The main purpose would be to provide some entertainment, but even this is only fulfilled in a few parts of the film.
One thing that I found to be irritating was the end credits, showing a video of the couple on the wedding night. To some this might seem amusing, but to me it made the film really drag on. The thoughts going through my mind were just that I'd had enough, and when videos during the credits kept constantly popping up it didn't help.
Cameron Diaz's performance was nothing to brag about. Pretty much all of the acting in
What Happens In Vegas...
was quite appalling, and certainly nothing better than from other films similar to this. Cameron Diaz made her character comical, but even tried to bring in more humor when it was completely unnecessary. Ashton Kutcher was perhaps slightly better, but still didn't give anything close to an incredible performance. Rob Corddry and Lake Bell made this film more enjoyable, but still weren't extraordinary in any way. Dennis Farina and Queen Latifah were also included in the cast, but guess what? They were nothing better than the average performance for their type of role.
What Happens In Vegas...
was overall worse than average, it could have been a whole lot better, but then again it could have been worse. See this for a bit of enjoyment but don't expect anything amazing.. I wouldn't really recommend this unless you're desperate to see it.

0 comments,
Reply to this entry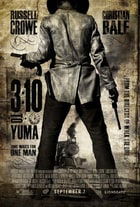 Posted : 7 years, 2 months ago on 16 June 2008 08:42 (A review of
3:10 to Yuma
)
"...And you just remember that your old man walked Ben Wade to that station when nobody else would."
3:10 to Yuma
is an extremely gratifying and poignant film that has exceeded all expectations and values that I would have ever wanted. At first glance
3:10 to Yuma
doesn't look quite as rewarding as it turned out to be, but I am more than happy that I have seen it.
The story itself is clever and affecting beyond any other western movie that I have seen before. I'm not much of a fan of western movies, but with this amazing line up of actors a promising look, I decided that I would have to find out what this film is really like. Although the story seems simple, even so it can easily be called unique and memorable nonetheless. It tells an exceptional story of apprehension and desperation, and eventually leads to pride and an emotional and inner battle for recognition and self-importance.
The ending was impressive and certainly unforgettable. It makes the overall film very moving and incredible to watch. As it reaches the climax within the last few scenes, I began to realise how incredible the film was relating to the deep connections and how gripping the story became.
3:10 to Yuma
ends on a high note and keeps the viewer still compelled until the very last moment when in reaches an astounding and somehow mystifying end.
3:10 to Yuma
soon became an intense and riveting film, delivering strong emotion and some enthralling battles and western style action. James Mangold's directing was incredible and astonishing beyond anything I would have imagined. He perfectly brought the story onto the big screen. The cinematography is also to be commended, there were many beautiful shots throughout the film, giving
3:10 to Yuma
a stunning and dramatic setting, perfect for this particular story to take place.
The score was tremendous and exhilarating, easily becoming an essential part to creating the complete atmosphere of this film. Even as the end credits begin to start, the score seems most memorable and recognisable as a key part to the film, especially at it's most appropriate end.
The acting overall was engaging and powerful, which was essential for the unique characters which were all incredibly appropriate for the actors. Russell Crowe as the famed outlaw Ben Wade was a choice beyond perfect. He completely aced his role and gave a strong and thrilling performance. Christian Bale was also brilliant for his role. He was potent and remarkable, and again was the perfect casting choice. Logan Lerman shined and showed what incredible talent he has, also giving an exceptional performance. Dallas Roberts was impressive and created even a memorable character for his slightly smaller role. I must say that Ben Foster gave an incredibly intense and electrifying performance. He quickly exceeded every expectation I had for him and gave an extremely powerful and truly unforgettable performance. Peter Fonda was also striking and notable, another familiar face. Alan Tudyk has always been an actor that I have admired, and seeing him in
3:10 to Yuma
has again proved that he has a lot of talent that he continues to show.
I've never seen the original
3:10 to Yuma
, but seeing this version has made me realise that western films can certainly be impressive and entertaining. This is a pleasurable and provoking film that should be seen by all, and I strongly recommend this to anyone that hasn't seen it... western movie lover or not, this is a must see film. Some aspects are indescribable because of their amazing originality, and how it is so incredible surreal.. but when it comes down to it
3:10 to Yuma
is astonishing and brilliant beyond words.

0 comments,
Reply to this entry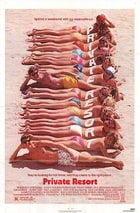 Posted : 7 years, 2 months ago on 15 June 2008 07:44 (A review of
Private Resort
)
Private Resort
is yet another B-grade 80s sex comedy, delivering a few laughs and of course some actors early in their careers... but when it comes down to it, there's no real screenplay or plot to be applauded.
Johnny Depp and Rob Morrow are two teenage boys who are guests at a Florida resort for the weekend. The only thing they have in mind to do is find as many girls as possible in their time at the resort, and have some 'fun'. Of course, it gets to the point when it was known that a plot had to be thrown in there somewhere, so soon the two find themselves in comical situations that can either turn out to be hilarious or repulsive. Along the way there's loads of unnecessary nudity, which is to be expected but not at that frequency. At times
Private Resort
gets a few laughs, but even some of the comedy comes from the thin and unoriginal plot and unnecessary lines. Of course, there are a few times when they screenwriters got it right. There are those few times when the laughs turn genuine out of the comedy of the bizarre and eccentric situations.
George Bowers' directing was also nothing special. But, having said that, I wouldn't blame Bowers for this film's lack of success. I'll mention the screenwriter Gordon Mitchell again and see if it sticks in this time. The unoriginal and somewhat lame plot seems to be the thing that is giving
Private Resort
away. Honestly from first glance this doesn't look like a memorable and engrossing film. I think
Private Resort
had a different motive in mind; just to entertain the viewer. Whether it be the viewer is entertained by the comedy or the lack of dedication put into the film itself, it pretty much achieves the goal of being an entertaining movie.
The soundtrack didn't really add much to the atmosphere of the film, except for adding a few irritating tunes. Somehow they were appealing to the nature of this film overall, making most scenes even more cheesy than you could imagine them to be.
The acting in
Private Resort
was unexpectedly slightly better than average from some of the cast. Sure, there was no Oscar-material, but some a lot better than other low comedies around this time. Rob Morrow pulled off his role pretty well, creating a likeable character that was both quirky and entertaining. Seeing Johnny Depp in this flick hasn't necessarily made me think any less of him, despite this being not so well done overall, he also gave a decent performance. His character was amusing to watch, and he turned his not so original role into something that could be remembered by viewers. There were dozens of female performances that could easily have gotten the miss. Emily Longstreth and Karyn O'Bryan included with those. Although they have a lot of screen time, their performances were nothing special and their characters weren't essential to the plot. Hector Elizondo was again nothing special, and his character was only needed as some kind of threat to the story.
Overall
Private Resort
is by no means a movie that is necessary to be viewed, but I'd recommend it for a bit of light entertainment and something for a few laughs. With the idea of seeing Johnny Depp's butt in mind I'm sure it would be enjoyable and harmless to watch.. right?!

0 comments,
Reply to this entry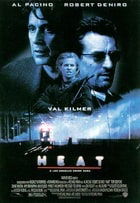 Posted : 7 years, 2 months ago on 14 June 2008 03:33 (A review of
Heat
)
"You know, we are sitting here, you and I, like a couple of regular fellas. You do what you do, and I do what I gotta do. And now that we've been face to face, if I'm there and I gotta put you away, I won't like it. But I tell you, if it's between you and some poor bastard whose wife you're gonna turn into a widow, brother, you are going down."
Heat
was an outstanding and enthralling film that delivers emotions that continue to intrigue the viewer long after the film comes to its final conclusion. It is a rare film that should not be missed for any occasion; exciting and compelling from the moment it begins.
Robert De Niro is Neil McCauley, an expert in his area. He happens to be a thief and an exceptional one too. He finds himself and his crew being chased down by Detective Vincent Hanna, a man who seems to stop at nothing to put his city out of danger. Both criminal and detective have their own glitches in their personal lives, and we go deeper into these as we explore both of their lives and ways of living. Eventually these two will come face to face and have to make decisions that will change the course of their lives, and experience things that make it clear that it's a challenge between masterminds of the opposite sides of the law.
Heat
exceeds all expectations for its genre. It soon becomes an exhilarating and fast paced thrill ride, but manages to keep other aspects as key parts of the plot itself. As well as being an action thriller, elements of drama, mystery & romance come across strongly. Heck, there's even some light humor numerous times. This makes Heat the type of film any movie lover would enjoy, and surely any fan of Michael Mann would have to be impressed for several different reasons.
For starters, Michael Mann has talent behind the camera that very few others can match. His ability to make the viewer this captivated and compelled to the plot and characters is simply extraordinary. Not only has he directed
Heat
, but he has also used his ability to create and write the story itself, which can't be given any rank lower than magnificent. It's rare for a film to leave me this connected to the plot and literally on the edge of my seat for almost its entire length. Even if
Heat
isn't delivering a full on action scene with loads of guns and exhilarating moments, it can still leave the viewer on the edge of their seat in astonishment of the drama and gripping story that this film delivers. Even the score adds entirety to the atmosphere when it is most needed. For the most part of
Heat
though, the atmosphere comes simply from the stunning imagery and cinematography. Even just the element used within silence creates the full scene, which is visually amazing to watch.
Even just the cast in itself is more than enough reason to see
Heat
. With an all-star cast that give strong and powerful performances, the acting talent in heat comes just as brilliant as the other elements. Al Pacino and Robert De Niro are the two responsible for the leading roles. Just as expected, they give breathtaking performances that give the whole movie even more reason to be impressive and unforgettable. Both Pacino and De Niro were equally remarkable and incredible to watch. Val Kilmer also gave striking and alluring performance, showing emotions outstandingly well. Jon Voight was also exceptional for his supporting role, adding to riveting atmosphere.
Overall
Heat
was a movie that I am thrilled to have finally seen, and in awe of its tremendous ability to keep the viewer entertained and compelled for its entire length. This crime drama is thrilling and powerful, and should satisfy any viewer.

0 comments,
Reply to this entry